All our assignments are subject to the strictest quality assurance cycles to ensure the consistently high standards that our clients have come to expect from us. This process involves translation by an experienced, highly qualified translator, independent proofreading by an industry expert, feedback by the client and a final round of amendments based on that feedback. As a result, our clients are assured of getting the same consistently high-quality translation for each document.

The main steps of the NTS translation lifecycle are summarized in the graph below: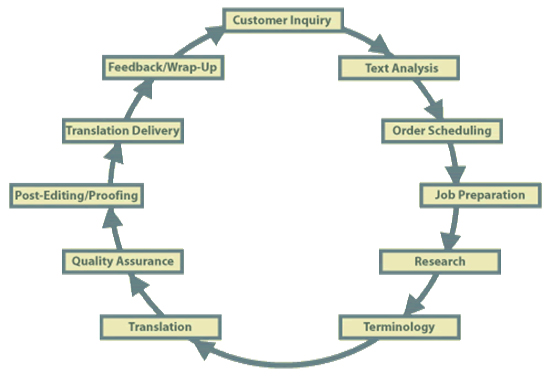 A single project manager gets assigned to each client. After your initial signoff for a project, s/he will guide you through all stages of our process in cooperation with your staff.


At NTS Translation, we have developed, enhanced, and implemented a standardized translation lifecycle. Work starts well before a text arrives for translation, and continues after it has been delivered. By clearly defining efficient procedures, our quality system helps ensure best practice every time, minimizing problems and their potential consequences. In addition, any issues that do arise can be investigated and resolved quickly, and the necessary conclusions drawn and appropriate actions implemented.
Our process can be divided into:
- Pre-assignment steps
- The actual translation assignment
- Post-assignment procedures
Our clients reap tangible benefits from long-term relationships with our company. These include advanced terminology and glossary management, which leads to substantial cost savings for our clients in the long run. We achieve these results through deploying the latest translation technology throughout our organization.


Any project, large or small, will be treated with the same meticulous care, managed by a single project manager throughout, who will ensure that the translation of your document is assigned only to a translator who has specialized experience in the relevant field of business.